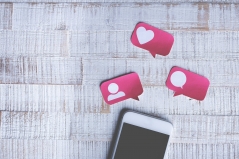 keywords:
social media / Instagram / Facebook / interpersonal relationships / romantic relationships / break-up / self-presentation / signalling theory
Have you ever thought about the criteria used for being recognized as an official couple on social media? Maybe you felt annoyed when your partner's new profile picture had been liked by his/her ex? Maybe you used social media after a break-up to snoop on someone you suspected to be your successor? If the answer is yes at least once, you certainly accept the importance of investigating these questions empirically....
/ more
Making and keeping friends: Strategy matters
Friendships can be tough work. Whether it's making them or maintaining them, friendships usually require effort. If you're from a Western country, this likely involves trusting and relying on others, and confidently communicating your strengths and your struggles. Let's call these your strategies for relational success: Let people know what sort of friend you are, and you'll increase your chances of finding and keeping a desirable friend.
For a moment,
...
/ more